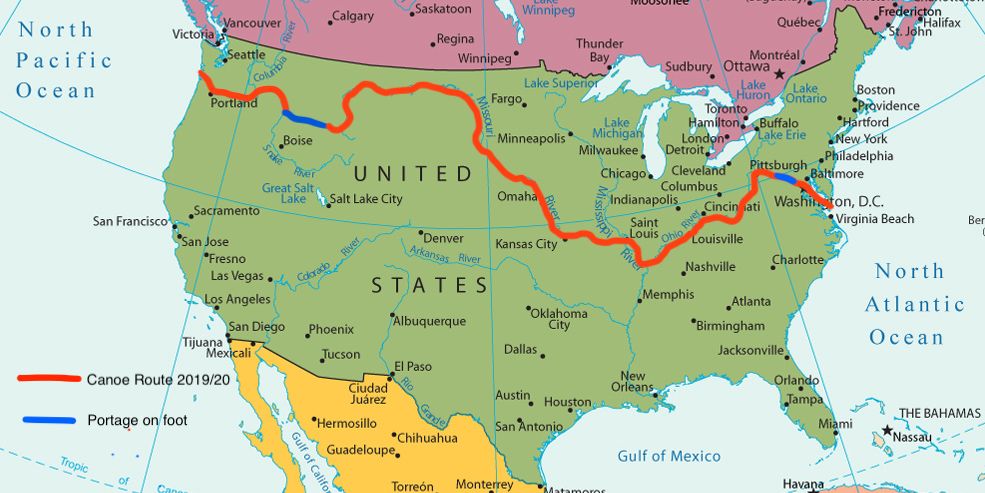 I am pleased to announce that starting at the beginning of August, my plan is to start paddling a canoe across America from Pacific to Atlantic filming a documentary, recording a podcast, and writing a new collection of songs about community. 
At a time dominated by news headlines, I'd like to delve deeper into what is happening in America at a grassroots level. Here are some of the questions I have: What do people love about where they live? What are the challenges? What are some of the challenges communities face in regards to the local natural environment? What is connecting/disconnecting people to nature in their local area? And what is being done in different communities large and small to help people of all ages do/learn/find what they love to do? 
While retracing in the footsteps of the iconic explorers Louis and Clarke for a significant portion of the journey, I also would like to trace the changes seen and experienced at socio-cultural, environmental, and historical levels from then until now; connecting with the land, communities, and people I meet along the way through the timeless arts of storytelling and music. 
In addition to this announcement, I am keen to have paddling partners to join me for sections of the river on an adventure of a lifetime. This year I will be paddling up the Columbia, portaging over the Rockies and paddling down to the headwaters of the Missouri and its tributaries from the beginning of August to October. Next year will be paddling down the Missouri and then hopefully paddling up the length of the Ohio River, portaging over the Appalachians and paddling the Potomac River to Chesapeake Bay. 
Currently finding someone willing to paddle the first 492 miles up the Columbia and Snake Rivers and then portage the 283 miles with me through the Rockies would be ideal, of course you can join me for sections on the downstream side as well. This will be a sometimes grueling but potentially incredibly rewarding journey, I hope to find people who can embrace adversity and beyond paddling and portaging hundreds to thousands of miles, would be fascinated and keen to connect with people across the country and delve deeper into what community means in America. 
If you or someone you know may be interested please message or email me for more details: thorloeks@gmail.com.